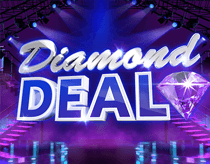 Diamond Deal
There are 10 diamonds to find – will you cash out or keep hunting? Keep an eye on your lives!
Diamond Deal
To play Diamond Deal, simply begin opening boxes. You are hunting for the 10 diamonds hidden on the board of 50 squares. If you pick 10 diamonds in a row, you win the jackpot!
Each time you find a diamond, your current prize will increase and you have the choice of whether to cash out or not.
If you open an empty box, you will lose one of four lives and your prize amount will fall. Every time you find a diamond your lives will reset to four.
Before you start, decide how much you're willing to bet. The higher your bet, the more money you can win.
The jackpot shows the maximum amount to be won for that bet.
The board consists of 50 squares – there are 10 diamonds hidden on the board.
When a square is clicked, the random number generator will determine whether the square contains a diamond or not
If you have found a diamond, a winning animation will display showing your prize counting up, your lives resetting and the cash out button will flash.
If the square does not have a diamond, you will see a life light switched off and the prize amount fall.
Once the player has found a diamond, he or she can choose whether to cash out or continue.
To win the jackpot, the player must find 10 diamonds in a row from the first choice.
Capping
Occasionally the jackpot may be capped to a certain amount. This figure will be shown as the 'Jackpot'.
After finding the maximum number of diamonds required to reach the jackpot, the game will automatically award the win. This does not impact on RTP, except for a minor positive advantage in the player's favour.
Average Payout
Diamond Deal is a chance based game where the outcome is NOT pre-determined. This means that the players choices are meaningful within the context of the random number generator calculating the odds of a diamond being found within a given square.
The player chooses whether to cash out or not at each square after the first diamond has been found.
The theoretical RTP is thus calculated on the premise that a player is equally likely to cash out or continue after opening a box.