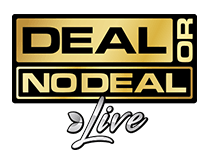 Live Deal or No Deal
Do you have what's needed to take on the banker in the classic casino game, Deal or No Deal?
Live Deal or No Deal
GAME INFORMATION
Classic live game presentation of the awesome Deal or No Deal game
Random multipliers can be used to increase the value of money in briefcases
Instantly recognisable studio format makes you feel like you're on the show
Combines top up wheel rounds with live hosted action
Suitable for all player types from novice all the way to seasoned casino pros
Easy to use interface and live host helps guide you all the way through the action
Qualify through the bank vault game – purchase easy and very easy entry options
Use the top up wheel to increase your prizes in the briefcases
Get 4 offers from the banker and the final option to swap your cases
Top single prize of 500x your stake
Return to player rated at 95.42%
HOW TO PLAY - BONUSES
Who doesn't love a slice of classic Deal or No Deal action? This is one of the most popular gameshows of all time, and now you can play it in the comfort of your own home without having to put up with Noel Edmunds and all the trappings of fame. Like all great real money games – it has a little twist on the original that will keep you coming back time and time again for even more plays. Read on to find out more…
Qualification
Simply line up all the golden sections of the bank vault rings to qualify for your game of Deal or No Deal. You can even buy extra chances with the easy and very easy options to help you qualify and get into the game.
The Top-Up Wheel
When you qualify for the game, you get the chance to top up the amount of money in one briefcase with the top up wheel. Select a briefcase and spin the wheel to add 5x – 50x your bet to the case. You can use this as many times as you like within the allotted timescale.
How to Play
This is the classic game of Deal or No Deal. You have 16 briefcases each with different cash amounts in them – when the case is opened you get to find out which amount of cash has been removed from the game.
Periodically though-out the game you will receive offers from the banker – 4 in total – for your box. These can vary wildly and you need to consider what you want to take for your box. Until you get to the final case, when you can swap your case with the banker's case. Choose wisely as your decisions really affect your ability to land the biggest prizes from this cool casino live play title.