Insights 12 December 2019
Plus the Rock Songs that Changed the World
The 8 Surprising Ways Music is Good for Your Health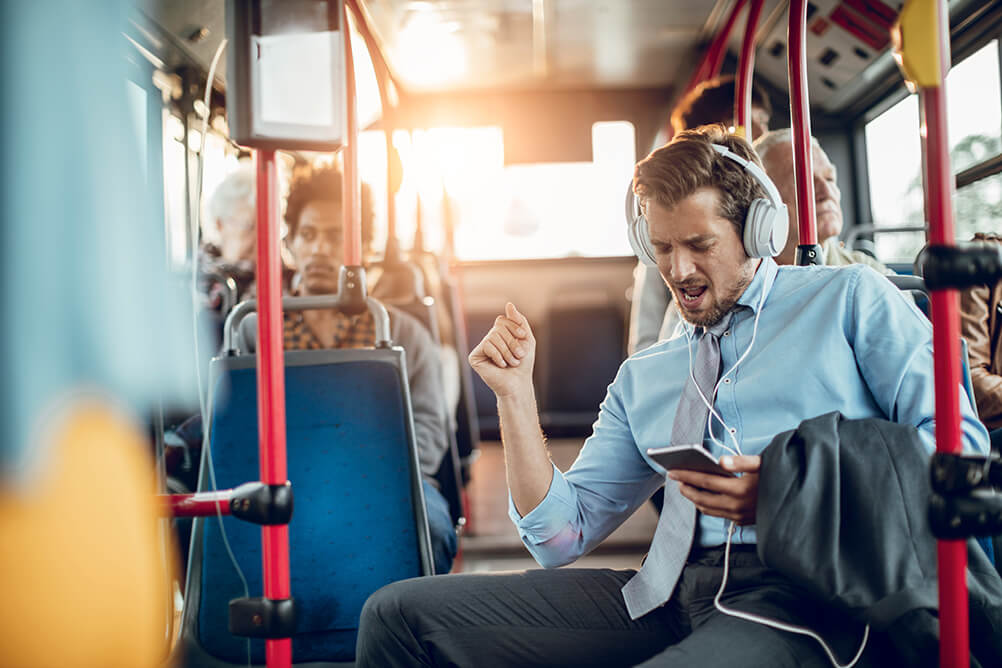 All of us are surrounded by music, whether it's plugged into our ears from the playlist on our phones, or the background music that plays in supermarkets and restaurants. What you may not realise is just how much of an effect the music you listen to can have on your mental and physical well-being. Check out our infographic on the different ways that listening to the right music can have a very positive effect on your life.

1. Happy Metal
A study was carried out in 2015 for the journal Self and Identity to examine how growing up as heavy metal fans in the 1980s had impacted on the lives of adults. You may be aware that in the '80s there was a certain amount of controversy about heavy metal music, as religious groups – particularly in the States – linked it to 'satanic worship'. Clearly that was a load of old nonsense, and it seems equally clear that listening to heavy rock can actually have a positive impact. The group of 377 adults which was surveyed revealed that metal rock fans were happier and less regretful than those who preferred other types of music, or who weren't music fans at all.
2. Rock Out While You Work Out
Many of us like to listen to music when we go to the gym or head out onto the streets for a run. It turns out that there are a number of benefits of listening to music when you exercise, and it helps you to maximise your efforts. For example, a study in 2010 discovered that cyclists worked harder when listening to fast tempo rock music. Listening to your favourite tunes also acts as a distraction, helping you to forget about the physical exertions you are going through. The right music can also put you in the right frame of mind to exercise and helps you to get into the 'zone' where you are maximising your effort. And of course, the more we exercise, the healthier (and happier) we will be.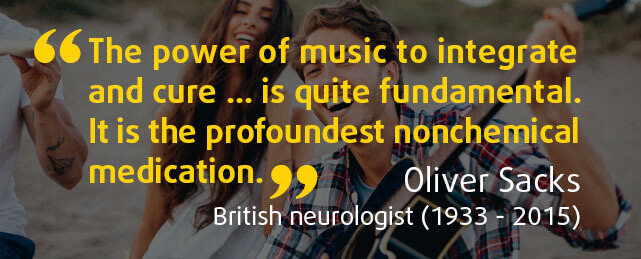 3. Recovery
The benefits of music extend further than just the period when you are exercising. A study carried out by the Journal of Strength and Conditioning Research found that listening to music helped when warming down as well. The ten chosen participants were monitored when warming down with and without music. When they listened to music, the subjects walked further in the same period of time, and also their blood tests showed that their lactate levels were dropping faster. Furthermore, the participants all reported that they felt better when warming down with music than without.
4. Stress Busting
Although the headbanging nature of rock music can cause us to think of it as stress-inducing rather than relaxing, an Australian study suggests that just the opposite is the case. Instead, the University of Queensland in Brisbane found that aggressive rock music 'matches and helps to process anger', leaving listeners feeling more active and energised. In fact pretty much every genre has the power to relax and de-stress the listener. As long as you enjoy the music you are listening to then it doesn't matter whether it is Metallica or Mozart, as it will still have the power to reduce feelings of stress and anxiety.
Here's a song which has been found to have reduced anxiety levels by 65% in those who listened to it. Why? Because the band Marconi Union worked with sound therapists with the specific intention of creating a stress-busting tune. Have a listen and see if it works for you:
5. Brain Booster
Listening to a young child or teenager trying to master the intricacies of the guitar may be somewhat wince-inducing, but it could just be doing them good. A number of studies – including one carried out in 2006 and published in the Journal of Educational Psychology – suggest a correlation between learning to play a musical instrument and slight increases in IQ. More recent studies focused on adolescents have shown that music students demonstrated increased facility for learning languages. Various research also found a lot of benefits in learning to play music. For example, it has been posited that musical training increases verbal reasoning, memory, literacy and spatial learning. Just remember that the next time your peace is disturbed by the squawking electric guitar of a novice player!
6. Musical Painkiller
Rock music engages us emotionally, and in doing so has the power to distract us from pain. Numerous studies have shown the power of music to reduce the sensation of pain. A study carried out in 2012 showed that sufferers of chronic pain benefited from twice daily sessions of music therapy. Music has also been found to have reduced the need for opioid requirements of patients recovering from operations. It seems that music which is associated with positive memories can positively affect our mood, and thus our ability to deal with pain.

7. Gigs are Good for You
Researchers from Victoria's Deakin University in Australia surveyed more than 1,000 people, and discovered that people who regularly attended music concerts reported a higher level of satisfaction with their lives. This active participation in the music scene appears to convey greater benefits than just passively listening to music at home or on your phone. It's something to do with sharing the live experience both with the band, as well as with the other fans at the gig. It should be borne in mind that this survey relied on self-reported data, which can be inaccurate. Also, it is possible to wonder about the cause and effect element, in that maybe happier people tend to go to concerts more often, rather than the other way around. However, it certainly seems that the shared communal experience of attending a live music event will be a positive experience, and one that will lift your mood.
8. Does the Heart Good
It turns out that listening to rock music can be good for your heart. According to a study undertaken by the Institute of Cardiology, in the University of Nis, Serbia, listening to music we enjoy releases endorphins from the brain. This in term boosts our vascular health, with research suggesting that music like this can boost our blood-flow by up to 26%. Healthy circulation means reduced blood pressure and lessens the possibility of heart problems. In the test case, patients with cardiovascular issues were divided into three groups: one group took exercise classes for 3 weeks, the second took exercise classes and listened to their favourite music for 30 minutes a day, and the third just listened to music. Those who combined exercise and music improved their exercise capacity by 39%, compared to the exercise only group (29%) and the music-only group (19%). So just listening to music alone managed to increase the patients' capacity for exercise, according to this 74-person experiment. Quite an excuse to avoid going to the gym this week!
Sometimes Rock Music is Not the Answer…
There are occasions when listening to certain types of music may be beneficial, but when rock music is not necessarily the best choice. For example, driving while listening to a fast tempo song at full volume is not a good idea. It tends to make drivers go faster in response to the song. A slower more mellow song which the driver enjoys is a much better musical accompaniment, as studies suggest this can help you to drive more efficiently. Likewise, relaxing melodies played in the half hour before going to sleep are a good thing and can help you to enjoy a good night's sleep. Blasting out Back in Black by AC/DC? Less effective.
Sources:
https://www.psychologytoday.com/blog/memory-medic/201312/does-music-help-memory
http://www.apa.org/monitor/jun06/iq.aspx
https://greatist.com/happiness/unexpected-health-benefits-music
http://www.lifehack.org/317747/scientists-find-15-amazing-benefits-listening-music
https://dailyhealthpost.com/health-benefits-heavy-metal-music-11856/
http://edition.cnn.com/2016/08/17/health/music-concerts-dancing-study-trnd/index.html
http://teamrock.com/news/2015-06-22/angry-music-makes-you-happy-say-experts
http://musicfeeds.com.au/news/heavy-metal-increases-positive-emotions-reduces-stress-australian-study-finds
https://www.theguardian.com/music/2015/jun/22/listening-heavy-metal-punk-extreme-music-makes-you-calmer-not-angrier-study
https://www.washingtonpost.com/posteverything/wp/2015/07/21/the-science-of-why-music-improves-our-memory-and-verbal-intelligence
https://theconversation.com/how-music-can-help-relieve-chronic-pain-47302
http://www.telegraph.co.uk/news/health/news/10278977/Listening-to-music-is-good-for-the-heart.html
https://www.salon.com/2016/08/17/ticket-to-happiness-research-says-people-who-go-to-concerts-feel-better-about-life
---