Lotto Winners 13 April 2022
Lottoland Winners South Africa
Biggest Lottoland Winners in South Africa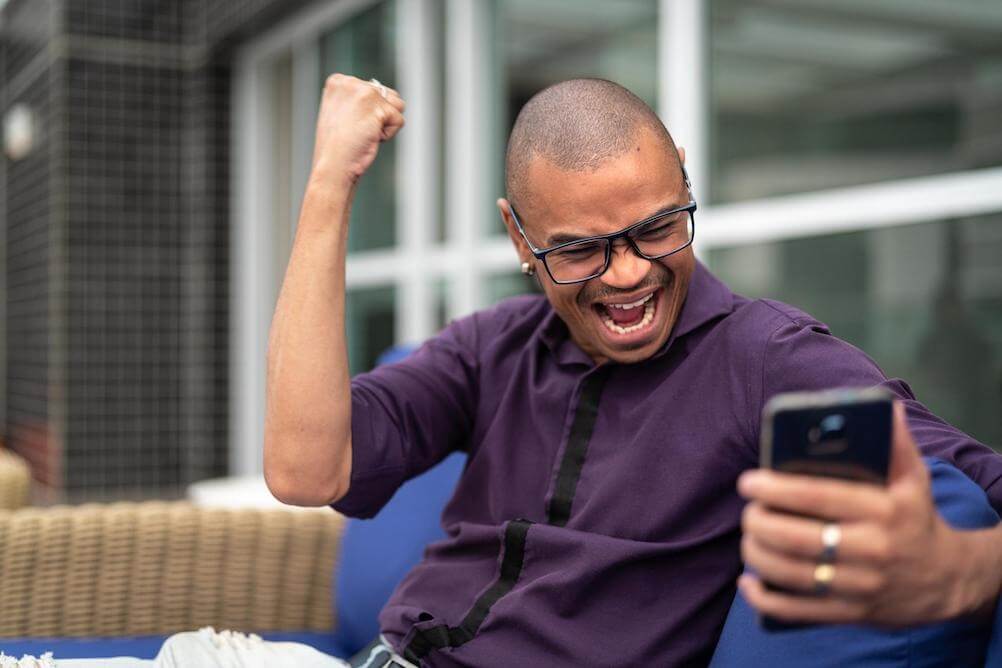 Table of contents:
Lottoland South Africa winner walks away with R26.7 million!
In the recent week of 18th April 2022, Lottoland South Africa was responsible for the biggest win in the bookmaker history of South Africa. A young man from Gauteng, known only as 'Johannes', used Lottoland South Africa to place a quick pick bet with a stake value of only R30, and walked away with a R26.7 million win in the Powerball draw.
Lottoland SA has guided Johannes every step of the way and has not only made the process easy for him, but also very personal. It is this support and personal approach that really sets Lottoland South Africa apart from other bookmakers.
A day after receiving the unbelievable news by telephone, the Lottoland SA team flew Johannes and his mother from Johannesburg to the head office of Lottoland South Africa in Cape Town. It was at this point that reality finally kicked in and he could come to terms with the fact that it was 100% true, and that he really won this enormous amount of money.
On arrival in Cape Town, he was put up in a five star hotel and the Lottoland SA team validated his required documents. Then, within three days of receiving the life-changing phone call from Lottoland South Africa, an amount of R26 797 077.50 was paid into his nominated South African bank account.
Additional support services provided by Lottoland SA to the winner included coaching sessions with a psychologist to help him process the event and provide him with tools to cope with this major change in his life. Lottoland SA also facilitated guidance from reputable, registered financial advisors to help Johannes invest his winnings wisely. It was his mother who told Johannes about Lottoland, when she heard a radio interview about Lottoland South Africa.
He said he placed a few bets on Lottoland SA over the past year, but it was this last bet of only R30, which gave him the big win of R26,7 million. He explained in his own words: 'I could not believe it when I got the call from Lottoland and it really felt like a miracle had just happened. The day I got the news was the best day of my life and the experience I have had during this process, was simply amazing. I have had so much support and guidance from the Lottoland team in South Africa and they have literally changed my life. I'm very grateful to Lottoland and I'm going to use this opportunity to make my dreams come true. I'm going to live the good life!
Keno 27/7 South Africa winner story
Lottoland's latest big winner was a lucky South African woman, another individual from Gauteng, who won R1 million in the Keno 24/7 draw on Lottoland SA.
She explained, "I'm the winner of over one million Rand! I joined Lottoland last year and have been playing occasionally. On the 9th March around 8pm, I played Lottoland's Keno 24/7 with three bets to a total of R6, which matched 10 numbers. Within an hour I received an email confirmation that I have won. I was asked to send a copy of my ID for verification and the process was so quick that two days later, the money already reflected in my bank account. The entire process only took three days and I had a wonderful experience with the Lottoland team. They are reliable and honest and quick to process payment."
German Lotto South Africa winner story
There have been two lucky winners in South Africa after betting on German Lotto with Lottoland! During the lockdown, one Lottoland winner from the Western Cape placed a R90 bet on the German Lotto. He matched all five numbers and the SuperBall and won R381 175.78. After winning he explained, "Now I can do what I want to do - settle my debt and enjoy the money. Thanks Lottoland SA for the amazing service and streamlined process."
This is the type of good news that everyone needs, especially during the lockdown! He confessed gratitude for Lottoland explaining, "Thanks to Lottoland SA for the amazing service and streamlined process."
A week later, the German Lotto luck striked again with a very happy South African, this time from Gauteng, who won R87,469.72 within only 24 hours after betting on the five correct numbers drawn!
El Gordo South Africa winner story
It was a very merry Christmas for one particular South African who won R1.4 million with Lottoland South Africa after placing a bet on the Spanish Christmas lottery El Gordo on the 22nd December.
The South African winner, Mr G.M, was a tier 1 winner, having won a 1/100 share with the lotto ticket that cost him only R80.
Mr G.M placed his winning bet online with Lottoland here in South Africa. He stated, 'It was a fantastic experience! When my ticket won, I was notified by email immediately after the draw took place in Madrid. Everyone at Lottoland SA was very friendly and helpful, and the process was so easy that it was almost too good to be true! After submitting a couple of documents to verify my identity and bank details, the winning were paid directly into my South Africa bank account. That's when my wife and I realized that it was 100% true and became really excited!
Lotto winners South Africa 2021/2022
Shown blow are the biggest Lottoland winners from South Africa within the last 12 months which won from a range of lottos including Keno 24/7, Mini Lotto, El Gordo Christmas Lottery and Powerball!
Lottoland South Africa winners
Lotto
Date
Amount
Town/Province
Sex
Keno 24/7
Mar 2022
R1,000,000
Greenside-Johannesburg
Female
MINI Lotto
Mar 2022
R215,000
East London
Male
El Gordo Christmas Lottery
Dec 2021
R1,430,000
Strand
Male
Powerball
Nov 2021
R2,539,000
Germiston
Female
Powerball
Sep 2021
R496,000
Bloemfontein
Male
Powerball
Sep 2021
R496,000
Johannesburg
Female
Powerball
Aug 2021
R457,000
Bryanston
Male
German Lotto online
The German Lotto is the lottery that has brought in the most Lottoland South Africa winners! Despite being one of the biggest events in Europe, the German Lotto has a very small prize to play! A basic bet costs just R25 - making this a fantastic budget lottery given the payouts involved.
To play the German Lotto with Lottoland all you have to do is simply choose six numbers from a ranfe of 1 to 49. Alternatively, you can go all in with the three extra bonus games for even bigger chances to win!
So how much can you win with the German Lotto? The minimum base tier 1 prize is €1 million (R15,778,057*). Tier 1 prizes increase with regular rolloversand is not capped. The odds of winning the tier 1 prize are 1 in 139,838,160.
What is El Gordo?
El Gordo is the biggest winning lotto in Lottoland South Africa. At Lottoland you are betting on the outcome of the Spanish Christmas Lottery draw. You choose a five-digit number between 00000 and 99999 that you think will be drawn at the official event in Madrid on 22nd December.
If your number is drawn, then your bet will win the same prize money as if you had purchased a ticket for the official draw in Spain. If you choose a "full" bet, you will receive a percentage of the prize money equivalent to your fraction bet.
The cost of you bet will depends on the fractional bet you decide to place. Our lowest fraction bet is R80 and a 1/100th of the full recommended stake value. However, the larger the stake, the more you save. For instance, if you purchase a full bet, you'll pay just R4,000 - a huge saving of 50%!
The odds of winning the top prize of €4,000,000 (R63,444,173*) are 1 in 100,000. This is far lower than on any other multimillion euro lottery event.
How to play Keno 24/7
Keno 24/7 is another very popular winning lottery with South African Lottoland players. When you bet on Keno 24/7 at Lottoland, instead of entering the official draw, you place a fixed odds bet on the New York Keno (Quick Draw).
You pick the numbers you think will be drawn in the same way as if you had entered and played the offical Quick Draw. You will still win the same amount as if you had played the official draw. This is exactly why it's such a popular lottery with our players here at Lottoland!
You can play today with the chance to win R10 million every four minutes! This is a steal of a lottery, especially as a bet starts from as little as R2!
To place a bet on this fun lotto all you have to do is pick your numbers between 1 and 10 - little tip, the more numbers you choose the higher your potential winnings! Next, select how many events you wish to bet on. Lastly, simply choose a stake multiplier from x1 up t0 x2,500 (for 1 to 6 numbers). The higher the multiplier, the higher your potential winnings!
What is Fixed Odds betting?
Fixed Odds betting is where you bet on the specific outcome in a match or event - in this case it is the outcome of a lottery.
So how does Fixed Odds betting work? It's important to understand that Fixed Odds betting is not the same as buying an official lottery draw ticket. You are placing a bet on the chance that the numbers you select will be drawn and you make the bet through Lottoland, a seperate licensed company rather than the offical lottery operator. Lottoland pays out your winnings.
However, not to worry! Lottoland will still pay out the same prizes that you would win with the official lottery operator per draw, even including the main prize!
Therefore, by playing with Lottoland through Fixed Odds betting, you simply have the same chances of winning your favourite lotteries plus more as Lottoland allows you to bet on lotteries from all over the world online! Giving you more chances of winning a prize with a wider range of lotto's available!
Lottoland operates as an insurance model, so each bet placed on lottoland.co.za is insured. So, the way it works is that Lottoland pays out all smaller wins directly from the revenue generated from all sales. However, when that lucky person wins a large winning prize, it is covered by Lottoland's insurance model. So you dont have to fear that Lottoland wont be able to pay out such high Prize Winning amounts. We have you covered!
So, why bet with Lottoland rather than buying a lottery ticket? Well, apart from the fact that we offer you lotto's from all over the world as mentioned previously, we don't sell physical tickets - everything is done online. This gives us the possibility to offer you special promotional bets, special offers and unique features. All these unique features to Lottoland, allows you to maximise your chances of winning prizes.
So now that you know how to play the biggest and best lotto's available at Lottoland, why not give it a go! Who knows, we might be talking about your winning story in the next article!
Goodluck!
Last updated: 25 April 2022
---