News & Stories 08 July 2019
10 Million Lottolanders from Around The World
10 Million Customers Worldwide Choose Lottoland - Here is Why!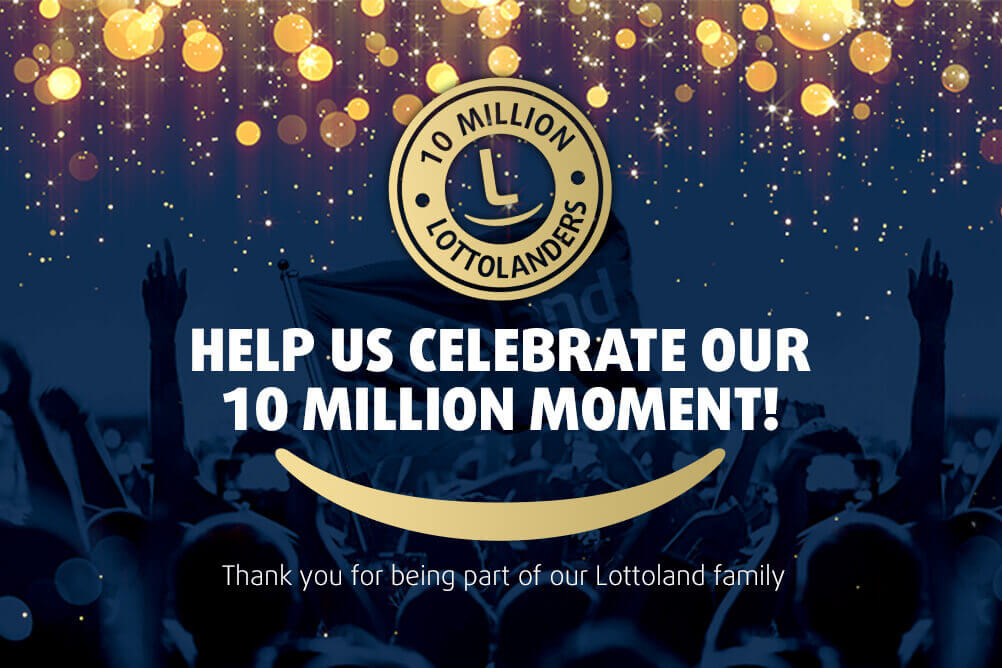 What is Lottoland?
Lottoland is an international lottery fixed odds betting company that's used groundbreaking innovation and advanced technology to change the way lotto betting games are played around the world. It's shaken up the industry and given more people a lot more freedom and choice when it comes to betting on the world's biggest cash prizes.
Lottoland South Africa is fully licensed with the Western Cape Racing and Gambling Board (bookmaker license number 10185705-002).
The international holding company is fully licensed with the United Kingdom Gambling Commission as well as the Gibraltar Betting and Gaming Association (GBGA). The GBGA is the same regulating body that oversees the biggest gambling companies in the UK and this ensures anyone who wins through Lottoland is paid out in full.
Its head office is based in Gibraltar off the coast of Spain but Lottoland knows no foreign boundaries. Lottoland has winners from around the world who chose to bet on one of the more than 30 international lotto products available, including the US Powerball, US MegaMillions, EuroJackpot and France Lotto.
It doesn't matter where you are in the world and the time of day, you can place a fixed odds lotto bet from the comfort of your home or office. And thanks to the support of leading insurance and reinsurance companies, Lottoland pays out swiftly and efficiently and all pay outs are guaranteed.

10 Reasons Why Lotto Lovers Choose Online Betting with Lottoland
Lottoland entered the South African market in 2019 under license by the Western Cape Racing and Gambling Board. The good thing is Lottoland South Africa's customers will benefit from 6 years of learning that's allowed the global player to develop and grow at such an outstanding rate.
There are still the traditionalists in South Africa who'll still go to the shops and buy a lottery ticket but there's tantalising evidence that Lottoland South Africa will change the game and open up a new world of online lottery betting in the country.

#1 - 10 Million Customers Worldwide
Lottoland has been dubbed "one of Europe's fastest-growing companies". The small start-up company hit the 1-million mark in 2015 and less than a year later, celebrated 3 million customers on its online platform.
In 2019, Lottoland registered its 10 millionth customer and with Lottoland South Africa coming on board, this number will increase substantially.

#2 - Guinness World Record Holder
The Lottoland team was amazed and delighted when they heard they'd made it into the Guinness World Records for the world's biggest online gambling payout of €90 Million (1.4 billion South African Rands). The lucky winner of the EuroJackpot was Christina, a 36-year old home cleaner from Berlin.
The Guinness World Record is not the only thing the Lottoland team can boast about; they're also an international award-winning organisation. Lottoland received the prestigious award for the Best Lottery App and Innovative Start-up award in 2016 and the 2017 award for Lottery Operator of the Year at both the renowned IGA Awards and EGR Operator Awards.

#3 - The Biggest & Most Famous Cash Prizes
There are so many famous betting games in the world and it's hard to choose which one is the best. They differ in many ways but what's most important is the size of the top cash prize, the number of draws it has and the winning caps.
Here's a look at the Top 5 world famous fixed odds lotto games that are all available on Lottoland South Africa:
US Powerball Lotto
This giant lotto is an American favourite. Its main cash prize starts at a mind-blowing $40 million and keeps growing until someone wins. It's known for record-breaking winnings such as a whopping $1.5 billion payout in January 2016.
Mega Millions Lotto
This is another wildly popular American game and famous for its massive payouts. The MegaMillions lotto has no cap which means it keeps growing until someone wins. MegaMillions held the record for the biggest payout for many years until the US Powerball smashed it out the park in 2016.
SuperEnaLotto
This giant lotto game hails from Europe and gives the American payouts a run for their money. What makes SuperEnaLotto stand out is its extremely simple format. Players only choose one set and all numbers must match. It's one of the hardest to crack but the enormous payouts are worth it.
EuroMillions
Another famous lotto from Europe but what makes this one different is its Surprise Super Draws. It's a special event that happens a few times a year and the big cash prize can hit the 190 million Euro mark.
EuroJackpot
Still in Europe, you have a world-famous fixed odds betting game that was launched after EuroMillions specially for countries that couldn't bet on the EuroMillions lottery. The EuroJackpot has no cap and made Lottoland famous when one of its new customers bet on it and won a whopping 90 million Euro, placing Lottoland in the Guinness World Records.

#4 - A lot more freedom and choice
Lottoland South Africa offers you a choice of over 30 lotteries and each is more exciting than the one before. The lotto payouts like SA Lotto and US Mega Millions are the most popular but the Powerball options are growing in popularity mainly due to their high payouts.
So, which lottery is the easiest to win?
Bear in mind that not all lotteries are created equally and there's a huge difference between how difficult or easy it is to win the large cash prizes.
The easiest lottery to win by prize is the French Lotto. It gives you a 1 in 6 chance of winning a prize.
The easiest all-rounder lottery to win across the board is the Swedish Lotto. It offers large payouts for a small price, with a single draw quick pick ticket costing just R30.

#5 - Lottoland Guarantees Highest Payouts
Lottoland is known for its super-sized payouts, one of which got it into the Guinness World Records. It also has special features like DoublePayout, Numbershield and Syndicate Bets have rocketed Lottoland to the front of the pack of leading lottery betting companies.
Lotto pays out prizes which run into hundreds of millions. If you're wondering how they do it, they've adopted a revolutionary payout model that revolves around equity, insurance and reinsurance.
"Smaller" payouts are paid from the proceeds of betting sales and the massive multi-million payouts are paid out by leading insurance firms using Insurance Linked Securities (ILS). It's the same insurance model that protects companies against natural disasters such as floods and earthquakes.
#6 - Lottoland Offers Special Payouts
If you see a main prize on the Lottoland South Africa website that looks far higher than the official one, it's not a typing error. That's a SpecialPayout! These exclusive lottery payouts usually coincide with a special event overseas such as the Fourth of July and Thanksgiving in America.
Lottoland can lay claim to having some of the highest payouts partly because it offers a selection of SpecialPayouts. These super-sized lottery main prizes are kept as a surprise and pop up throughout the year. Follow Lottoland South Africa on Facebook and you'll find out about these exciting tier 1 prizes and other great lottery promotions.
If you're new to online lotto betting, you'd be interested to know that the payouts for SpecialPayouts skyrocket because there's no cap on them. They roll over long after the surprise promotion has come and gone.
Actually, the SpecialPayout start at a high point and just keep growing until a lucky winner claims his or her prize. This is why the SpecialPayouts offered by Lottoland are sometimes three or four times bigger than the official publicised amount.

#7 - Lottoland Has Multiple Tier 1 Winners
It's proven itself as an industry leader and there are 9 lucky punters who can vouch for their outstanding efforts because they're sitting comfortably with a few million in their bank accounts. Interested in who has won with Lottoland over the past 5 years?
Christina
Won the biggest payout to day; €90 million betting on the EuroJackpot. It was only the second bet she'd ever placed on Lottoland. She planned to quit her cleaning job, bought a campervan and went on a long roadtrip across the United States with her Mom.
Matthias
Won €22.3 million betting on the German lotto. He planned to buy a new Ferrari for himself and bank the rest for a secure future for his family.
Michael
Won Lottoland's second highest payout; €14 million betting on the German lotto. He's a modest man and insisted his winnings won't change him. He planned to stay in his job and quietly enjoy the fruits of his windfall.
Mario
Won €3.2 million on the German lotto when he matched 6 balls correctly and the bonus ball took him to the top of the 10 biggest winners list. He planned to start life over again in his homeland with his family and settle on a rural farm in the Apulia region in Southern Italy.

#8 - Lottoland Offers Unique Features
The Subscription feature allows customers to automatically renew a lotto ticket or let it run until it's time to cancel it. This means your game will continuously bet on every draw which takes the schlepp out of going back into the Lottoland website to resubmit.
Lottoland is an award-winning lottery betting company for a number of reasons but probably the most relevant is how easy and convenient it is to use the online betting platform. This is due to the many unique features that have been built into the betting functionality.
Managing your registered account is easy and so convenient and withdrawing your winnings is quick and pain free with special features built into the Lottoland South Africa betting platform.
Subscription feature
There's no extra fee for the Subscription option and you can choose how often you'd like to be billed for your subscription.
Payout Hunt
The Payout Hunt puts you in the "hunt" for the current main prize payout. Your bet slip is automatically renewed on the current main prize payout until it's won. Your subscription ends immediately after a winner is announced.
It's great for players who like to enter when there's a big payout amount running. You select when you'd like your Payout Hunt to start; either by date or by a specific amount of money.
DoublePayout
The DoublePayout lets you multiply a main prize payout by two. This means you have the chance to win twice as much in the same draw. If you bet on a 10 million payout, you increase your chance of winning an incredible 20 million.
It's perfect if you favour huge tier 1 prizes and hate waiting for several draws to see if the prize rolls over.
NumberShield
The NumberShield is a special feature that protects a specific set of numbers in the event of a main payout is won by more than one player. Only one player can select the NumberShield feature for a particular game field or complete bet slip.
NumberShield and DoublePayout cannot be selected on the same bet slip.
System Bets
With system bets you increase your chance of winning by playing more numbers within a typing field than is actually necessary. These additional numbers are automatically generated by the Lottoland system to form all possible combinations.
For example, if you bet on a lotto that requires 6 numbers, you can choose to make a System 7 bet and the Lottoland system will form all possible 6-digit combinations from 7 numbers you choose.

#9 - Your Security is The Top Priority
Lottoland South Africa is fully licensed and regulated by the Western Cape Gambling Board. This license was issued under the National Amended Gambling Act of 2004 and ensures anyone who wins through Lottoland South Africa will be paid out in full.
A valid ID protects our customers from identity fraud and is required to validate and pay out any winnings. It also safeguards vulnerable underage players and prevents minors from betting. Lottoland is legally required to take all the necessary steps to ensure any personal information shared on the betting platform remains secure. Your personal details are stored in accordance with data protection legislation as well as monitored and checked by third-party officials.
This same license dictates rules and regulations put in place by the National Gaming Board that protects the gaming public, in particular underage gamblers and minors. Lottoland has earned itself a reputation for being the leading online betting platform in the world and itself places a high priority on security.

#10 - Easy to Withdraw Your Winnings
With Lottoland, there's no guessing whether your winning ticket has been drawn. An automated system notifies customers by email when they've won and, in the case of a massive jackpot, by phone.
Your winnings are automatically credited to your Lottoland account almost immediately after the draw results are confirmed and the payouts are finalised. You follow 4 easy steps to have your winnings transferred from your Lottoland account to your own personal banking account.
---